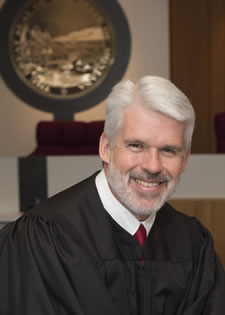 Justice James Jeremiah Shea was born and raised in Butte, Montana. After graduating from Butte Central Catholic High School, he attended the University of Montana, where he earned his undergraduate degree in 1988 and his law degree in 1991. Following graduation from law school, he served as a law clerk to the Honorable Paul G. Hatfield of the United States District Court in Great Falls, Montana. After completing his clerkship with Judge Hatfield, he moved to Portland, Oregon where he worked as a trial attorney with the Metropolitan Public Defender and then practiced civil law in the private sector.
Justice Shea returned to Montana in 1996, and practiced in Missoula until 2005, when Governor Brian Schweitzer appointed him Judge of the Workers' Compensation Court. He served as Workers' Compensation Judge until 2014, when Governor Steve Bullock appointed him to the Montana Supreme Court. He was sworn in as an Associate Justice on June 2, 2014.
Justice Shea and his wife Kathy have two daughters, Kate and Moira.