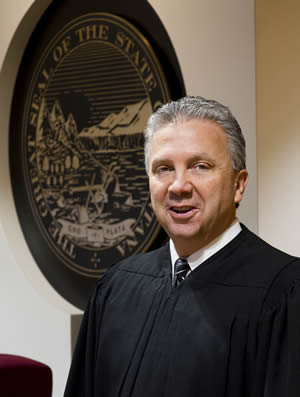 Justice Dirk Sandefur was born and raised in Great Falls, Montana. He graduated from the University of Montana with honors in 1985 with a Bachelor of Science degree in Computer Science. Prior to attending law school, Justice Sandefur was employed in various capacities in Great Falls including as a construction inspection aide with the United States Army Corps of Engineers at Malmstrom Air Force Base (1984-86) and Smith Equipment Co. in 1986-87. Upon graduating from the Montana Law Enforcement Academy, he served as a police officer with the Havre Police Department from 1987-90 until leaving to attend law school.
In 1993, Justice Sandefur graduated from the University of Montana School of Law with high honors, ranked third in his class. He then returned to Great Falls where he worked for a year in a private law firm and as a contract felony public defender. From 1994-2001, Justice Sandefur worked as a deputy county attorney in the Cascade County Attorney's Office, both as a criminal deputy and chief civil deputy. In 2002, he was elected as a state district judge in the Montana Eighth Judicial District in Great Falls in a contested election.
Justice Sandefur was re-elected in 2008 and 2014 in uncontested elections. During his tenure as a district judge, he served on the Montana District Court Council and as an elected officer (president, vice-president, secretary, and treasurer) of the Montana Judges Association. After serving 16 years as a district judge, Justice Sandefur was elected to the Montana Supreme Court in 2016 in a contested election. Justice Sandefur has three adult children.