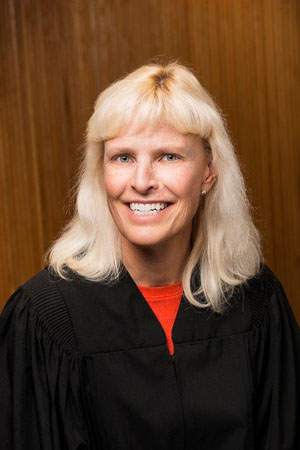 Justice Ingrid Gustafson is a graduate of Montana State University where she majored in Business Marketing and was a four-year varsity alpine ski racer. She is an NCAA All-American and member of the Montana State University Athletic Hall of Fame. In 1988 she received her law degree from the University of Montana graduating with honors.
Justice Gustafson was appointed to the Montana Supreme Court in December 2017. Prior to that she presided over a general jurisdiction court serving Montanans for 14 years as a District Court Judge for the 13th Judicial District, Yellowstone County, Montana, the largest judicial district in Montana. She was appointed to the District Court bench in 2004 and was elected 3 subsequent times. Prior to taking the bench in 2004, Judge Gustafson practiced law for 16 years maintaining a broad based private practice which included state and federal criminal defense, personal injury, and domestic relations cases. In 2011, Judge Gustafson started the 13th Judicial District's felony drug court and worked with individuals with substance abuse disorders to help them gain the tools and incentives necessary to conquer their substance abuse problems to become productive, law-abiding citizens.
From 2011 until her appointment to the Montana Supreme Court Judge Gustafson also operated a pilot court in the area of child dependency successfully reunifying families. She is currently Vice President of the Montana Judges Association and recently served as a Commissioner on the Montana Commission on Sentencing, a legislatively created commission formed to conduct a comprehensive analysis of Montana's criminal justice system and make recommendations for Justice Reinvestment. She is also serving on the National Center for State Courts Evidence Based Sentencing Judicial Peer Group as well as Montana's Pre-Trial Advisory Committee, the Court Assessment Program and the State Bar's Fee Arbitration Committee.